Homemade Salsa In Seconds!

Bubba's Swift Salsa mix is an all-natural blend of spices that creates the perfect salsa – Mild, Medium, Hot, or Extra Hot – in a flash!
Bubba's Swift Salsa is the perfect thing to always have on hand. All you have to do is is combine 1-2 tablespoons tablespoons of Bubba's Swift Salsa mix with one 14.5 oz can of petite diced tomatoes (or crushed tomatoes), set it in the fridge to chill for a bit, and you'll have a delicious salsa for any occasion!
There are other great ways to enjoy Bubba's Swift Salsa as well. Combine 1-2 tablespoons of mix with 1 cup sour cream and 1/4 cup of mayo for an outstanding chip or veggie dip!
Bubba's Swift Salsa is great on eggs, veggies, potatoes, steak, chops, chicken, seafood, and anywhere else that salsa or seasoning would be used. This 7oz bag makes 15-20 batches of salsa and dip.
And of course Bubba's Swift Salsa is….
Low in sodium
Cholesterol free
Sugar free
Gluten Free
Preservative free
Zero calories (as packaged)
100% natural
~~~~~~~~~~~~~~~~~~~~~~~~~~~~~~~~~~~~~~~~~~~~~~~~~~~~~~~~~~


Pictured: Hot Salsa mix on biscuits & gravy and scrambled eggs.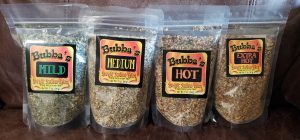 Free shipping on all products!!
Like us on Facebook!  www.Facebook.com/BubbasSwiftSalsa